People often listen to music according to the mood they want, whether to reinforce the state they are in or rather to change it. In this way, Musicovery has created a graphical interface to meet this need, the "mood pad": it displays two axes – dark / positive and calm / energetic – axes that are continuous and progressive, and offers an infinite range of moods; every song has a specific position on the mood pad. When rolling over the mood pad, music samples are played, allowing the listener to intuitively find the mood and the music he wants and to launch the program from the desired position.
The interface offers several ways to create a playlist and interact with it, and as a result provides playlists for all situations. Playlists and recommendations on Musicovery are tailored to each listener based on their preferences, behavior, geographical origin.
.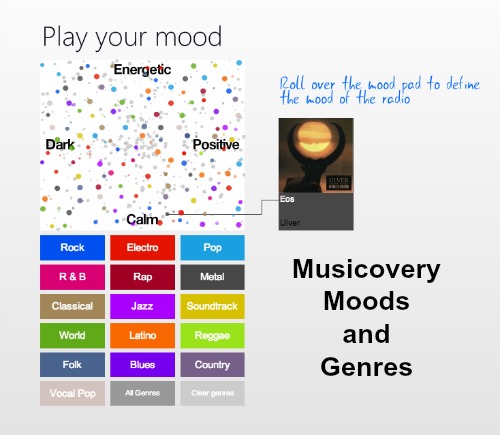 .
We have to know that each song is listened to by an expert at Musicovery and described with 40 acoustic parameters. Each parameter can take between 3 to 20 values. An algorithm concerts these values into a position on the mood pad. Because parameters are acoustic it is an objective way to set the relationship between music and moods/emotions. This is the result of 3 years of research.
musicovery from HeeJin G on Vimeo.