We can't speak about « How listening to online music » without mentionning Deezer. We have to know that it's the number 1 site for listening to music on demand. It's a website created in France in 2007 but available in 182 countries (in different langages)!
The main advantage is that no need to download any software: Deezer is a web based service which means that the only thing you have to do is to create your account online for listening the whole song. Indeed, Deezer it's more than 30 million tracks (all kind of music with a full quality sound), over 30,000 radio channels and 12 million monthly active users. It also provides the possibility to create your own playlists, share your favourite songs with your friends without forgetting that it has an excellent Facebook integration.
ssssss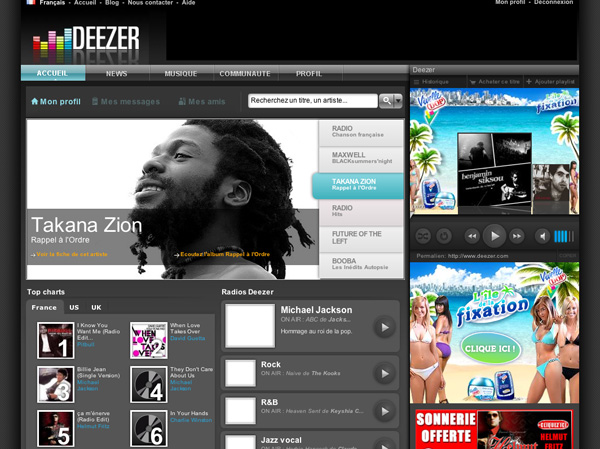 ssssss
However, the main inconvenient of this website is that free music is limited to 5 hours per months and there are advertising between different songs. So, if music is your first love, we encourage you to subscribe to « Deezer Premium » : for just 4,99€ a month you can listen to unlimited music on your computer without advertising (or 9,99€ if you want also a mobile access). More than 5 million of users have already subscribed to this Premium account.